Reishi Korea Red Ginseng Fermented Drink
(Made In Korea)
Content: 50ml x 18bottles (900ml)
Directions: Take 1 bottle (50ml) 1 to 2 times daily.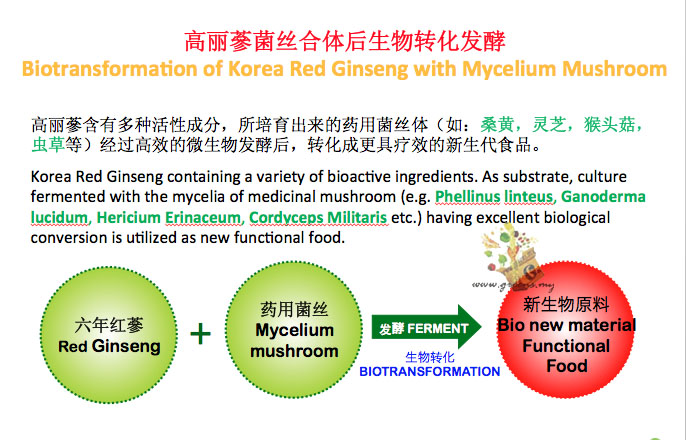 What is Fermented Ginseng?
Chungju National University with 100-year of tradition and Korea Railroad College start anew as Korea National University of Transportation. It manages its education programs, utilizing special bio-technologies and specific fermentation skills to develop Korea red ginseng and medicinal mushroom mushroom (e.g. Reishi, Bear's Head, Meshima, Cordyceps etc.) to new functional food. 
Only 6 years Korea red ginseng is selected from Jeungpyeong ginseng farm as ingredients, the highest grade ginseng in Korea (more than 32 types of ginseng saponins is found). Korea Red Ginseng containing a variety of bioactive ingredients. As substrate, it is cultured with the mycelia of medicinal to have excellent biological conversion. After fermentation, the saponins are converted to smaller size and easy to absorb into body.
健康功能食品大突破-发酵红蔘
拥有100年传统的忠州大学和韩国铁道大学,合并成为国立韩国交通大学。利用其独特的生物科技及发酵技术,研发多种含活性成分的高丽红蔘、珍贵上品药材及药用菌丝体(如:灵芝、猴头菇、桑黄、虫草等),经过高效的微生物发酵后,转化成更具疗效的新生代食品。
采用的原料都是韩国顶级红蔘出产地,曾坪区的六年高丽蔘(超过30种对人体非常有益的人参皂甙)。红参主要皂甙,经过菌丝培育,微生物发酵分解,转化成精细的皂甙,有效成分更容易被人体吸收。



Reishi Korea Red Ginseng Fermented Drink
Korea Red Ginseng and Reishi have positive effect in anti-fatigue, stress reduction, improve immune and liver function, promote heart health, and improve memory.
Reishi Fermented red Korea Ginseng has exquisite taste and suitable for men and women of all ages. No "heatiness" after consume.
灵芝高丽蔘发酵液
 灵芝及人蔘进行的配伍发酵,药理活性发挥了协调作用。人蔘及灵芝可抗疲劳及抗压、增强免疫力、有防老抗老、保护肝功能、改善血液循环、改善痴呆的功效。在实验鼠中,人蔘具有阻碍肿瘤细胞的转移、降低血压、激活镇痛剂等卓越的药理活性,具增强免疫及缓解癌症的效果,促进健康。
灵芝高丽蔘饮品的香气浓郁,味道非常柔和,适合不同人群服用,男女老少皆宜。服后不怕燥热,可迅速恢复元气。