More info
This wonderfully fragrant protein flour comes from the seeds of gently roasted Austrian pumpkins. After the oil has been gently removed, they are ground into a fine flour. The Pumpkin Seed Flour has an especially high protein content of 59 %, lengths ahead of popular sources of protein such as chicken breast (22 g per 100g) or chicken egg (13 g per 100 g). This makes the flour the perfect ingredient for feeding the entire family, especially for people with an increased protein requirement such as sportspeople, adolescents, pregnant women, senior citizens and vegans.
With its rich, savory taste the flour can, for example, improve green smoothies and dips. It is also perfect for breading vegetables, meat and fish. Bread, bread rolls and savory crackers are given not just an extra portion of protein but also a natural green coloring if you replace part of the wheat flour indicated in the recipe with the Pumpkin Seed Flour. The flour is also naturally free of gluten, making it the perfect choice for gluten-free baking.
Tip: Make sure to drink enough liquid with the product. Add an additional 10 ml of water per 10 g of Pumpkin Seed Flour to recipes.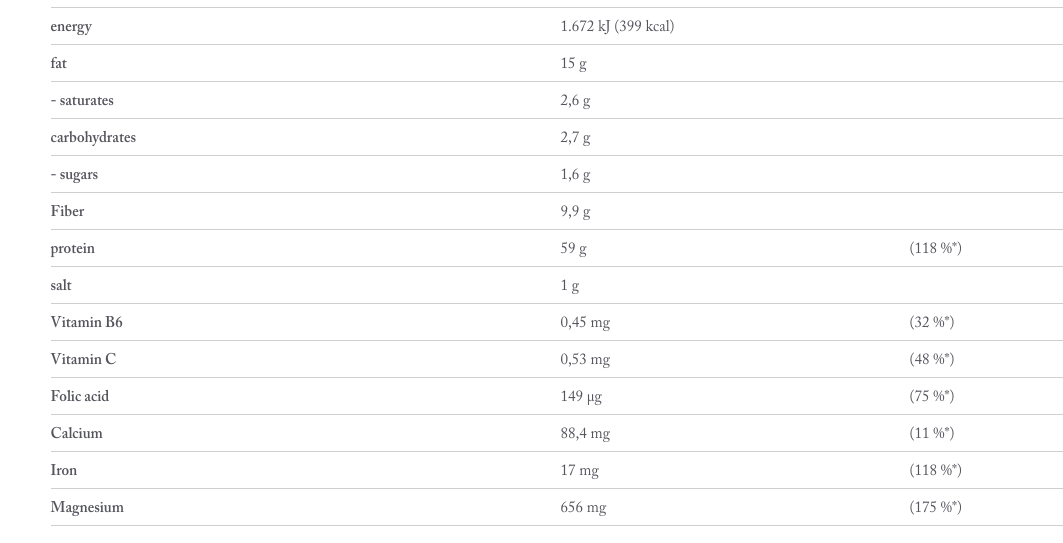 Average nutritional values per 100 g
* reference intake of an average adult (8400 kJ / 2000 kcal)