Oligo 900 Powder
Content: 6g x 30sachet (180g)
Ingredient : Isomalto-oligosaccharide
Japan Technologies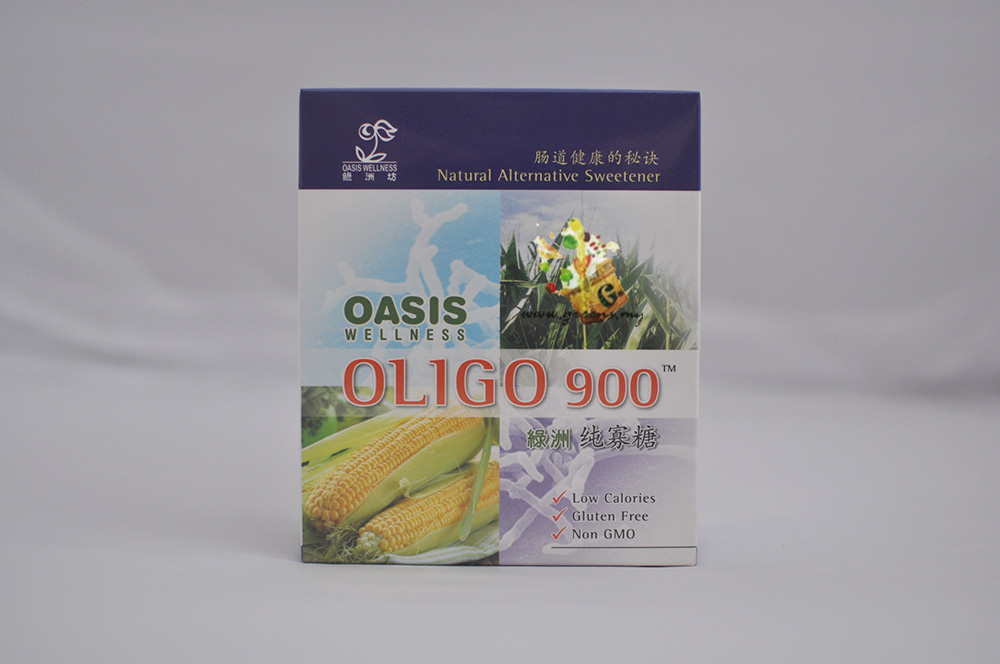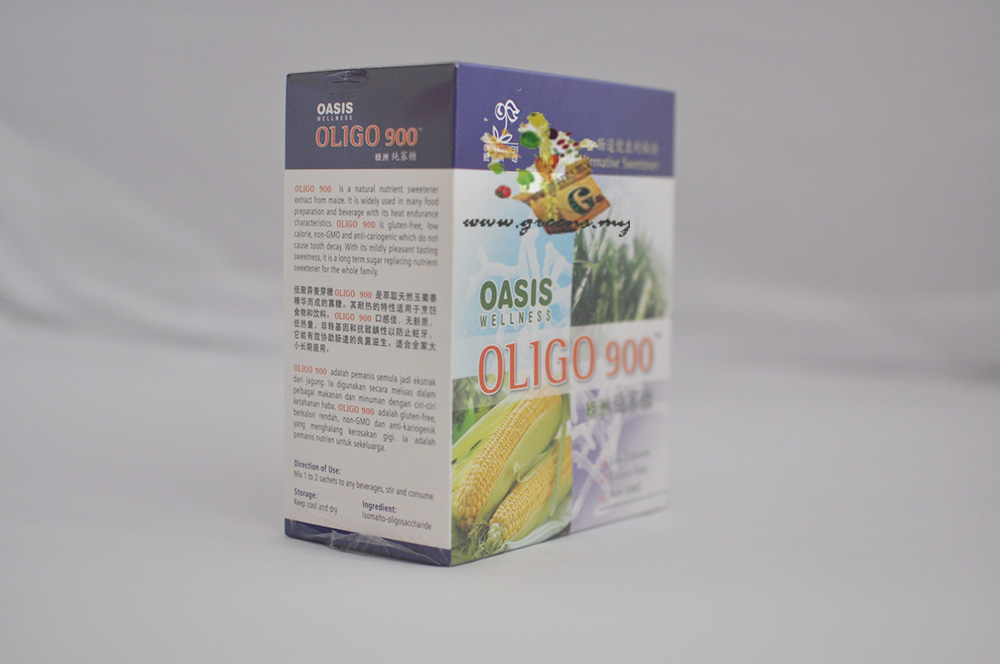 It is an extract of natural maize; support the growth of healthy probiotic - Bifidus. It multiplies Bifidus by 10 to 100 times after 2 weeks of continuous consume. Suitable for diabetes since it is indigestible & unabsorbable in stomach & small intestine. Other benefits are tooth decay-resistance, low calorie, acid resistance (pH3) and can stand up to 120oC.
Oligo is a prebiotics and known as Isomaltooligosaccharides (IMOS in abbreviation).
Benefits of Oligo 900 :
-          Support the growth of healthy Probiotic
Friendly bacteria multiply by 10 to 100 times after 2 weeks of continuous ingestion.
-          Anti-cariogenic (prevents tooth decay)
-          Suitable for diabetes
-          Mildly sweet (about half as sweet as sucrose)
-          Low Calorie,
-          Acid resistance (pH 3),
-          Heat resistance up to 120 °C
-          Gluten free
-          Non GMO
How to consume ?
Use Oligo 900 as your natural alternative sweetener. You can use in beverage, baking, pickling, cooking, confectioning and etc.
Beverage:
Oligo 900 can be mixed with milk, soymilk, fruit juice, tea, coffee.
Oligo 900 is heat resistance up to 120°C, so it is suitable to mix in hot beverage.
The Functions of  Bifidus Bacteria
• Stimulates peristalsis, inhibits the growth of harmful bacteria, improve bowel movement
• Improve minerals absorption such as calcium, magnesium
• Synthesize important B vitamins including B6 & B12, hence
• Relieve other digestive problems including diarrhoea, mucous colitis, diverticulitis,antibiotic colitis     that may suffer while traveling
• Control cholesterol level by changes it to coprostanol, a form that cannot be readily absorbed by the body.
• Prevent constipation, reduce liver toxic loading, and improve the chronic hepatitis condition
• Promote various kinds of enzyme secretion that helps in digestion and for better nutrient absorption,hence prevent unhealthy fermentation of food

NON-GMO product 无基因改造

玉米的天然萃取物。有效的滋养良菌,连续服食两个星期后,大肠双叉杆菌倍增10至100倍。它适合糖尿病患,因为它不被胃和小肠消化或吸收,又能抗蛀牙。低热值特性、抗酸、120ºC长时间不分解
双叉杆菌功能
• 刺激肠道的蠕动、抑制害菌的生长、改善排便功能
• 增进矿物质如钙和镁的吸收
• 制造维生素B群,包括B6&B12,使人体免役功能正常运作
• 能缓解与消化有关的问题,包括肚泻、粘液性肠炎、憩室炎、抗菌性结肠炎和痢疾(水土不服)
• 控制胆固醇,将其转化为粪固醇,让身体不会轻易吸收
• 清洁肠道,维护及调节肝脏功能,减少肝脏受伤害,改善慢性肝炎
• 促进分泌各种酵素,将不溶性转为可溶性以利消化吸收,改善肠内异常发酵