Volume: 100g
Ingredients: Palm Oil, Palm Kernel Oil, Olive Oil, Avocado Oil, Sodium Hydroxide (Lye)
Shabondama Baby Soap Bar is an additive-free plant oil based soap bar (made with the best thermal refining technique) with rich foam to effectively cleanse your baby's skin without irritating their soft and sensitive skin.
No additive chemical, synthetic preservatives, EDTA, colouring, and fragrance, let you and your babies enjoy a worries free bathing session.
采用富含营养维生素的优质鳄梨油为原料,能制造出细滑的肥皂泡的无添加婴用肥皂。温和滋润,即使宝宝洗澡时不小心舔到也无需担心。是妈咪能最放心让宝宝们使用的清洁沐浴用品。
没有防腐剂、合成界面活性剂、色素、香精等的无添加泡泡玉婴儿浴皂,适合宝宝与敏弱以及干性肌肤使用。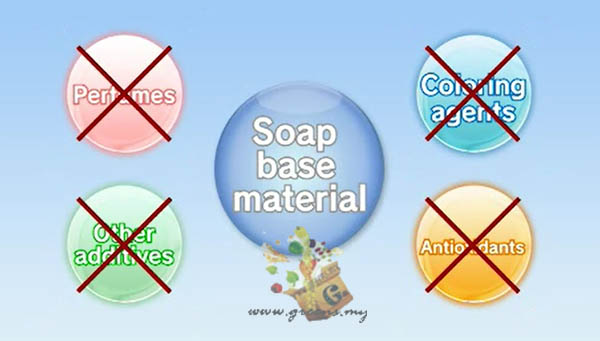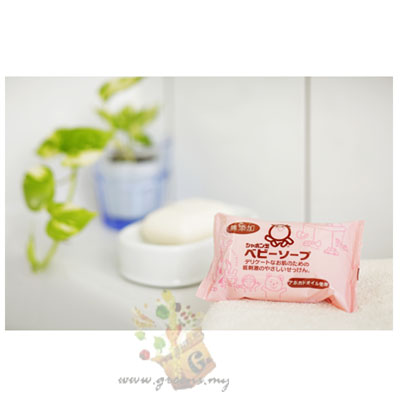 Usage Instructions:
Wet your hands and lather between the hands.
       Tentatively, you may opt to use sponge to form the lather.
Apply it to your baby's body gently & step into shower.
沾水于手心搓揉起泡,或使用湿沐浴海绵或沐浴棉起泡,然后涂抹在肌肤上再冲洗干净
*刚出生即可用于清洗身体,脸部则请先用水清洗一星期以后才使用。
Note: Shabondama Baby Bar Soap does not formulated with tear-less formula. Please avoid eye area when you use it to bathe your baby.
Features:
•Using avocado oil as main ingredient
• Additive free soap for babies. Gentle and safe, worry free from babies swallowing hazardous chemical
• Finer and richer foam, cleansing much effectively
• High purity soap, firm and solid, an economic choice for additive free bathing session for babies
• Recommended for female facial cleansing too
• Biodegradable, environmental friendly
       使用优质鳄梨油脂
       没有使用合成界面活性剂、色素、合成防腐剂等
       安全温和,无需担心婴儿舔到
       细滑质润的泡沫,有效清洗婴儿皮肤
       温和低刺激,适合婴儿、干燥敏感的皮肤