More info

Shabondama  Soap is 100% natural pure soap so it is safe for everyone, espcially to your skin. And plus it is environment friendly soap. It can be used as cleanser for your delicate skin especially sensitive skin. Save your skin and at the same time save the Earth.

Volume: 100g
Ingredients: Palm Oil, Palm Kernel Oil, Olive Oil, Avocado Oil, Sodium Hydroxide (Lye)
Shabondama Baby Soap Bar is an additive-free plant oil based soap bar (made with the best thermal refining technique) with rich foam to effectively cleanse your baby's skin without irritating their soft and sensitive skin. In short, ingredients are simple yet economical to use.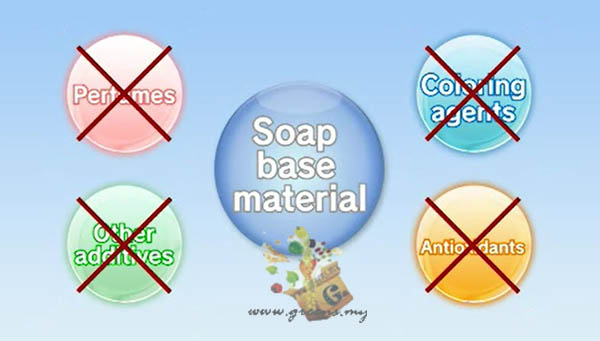 Usage Instructions:
Wet your hands and lather between the hands.
       Tentatively, you may opt to use sponge to form the lather.
Apply it to your baby's body gently & step into shower.
Note: Shabondama Baby Bar Soap does not formulated with tear-less formula. Please avoid eye area when you use it to bathe your baby.
Features:
Ingredients are simple yet economical to use.
Eco-friendly soap with biodegradable ingredients.
Additive- free and does not contain any additional synthetic surfactants, preservatives, EDTA, fragrances and colourings.
Suitable for babies and female facial cleansing.
Note: Shabondama soap can only be used to avoid potential allergens. Kindly take note that it does not prevent or cure allergies.